Psychics, Healers and Mediums. A Journalist, A Road Trip and Voices from the Other Side.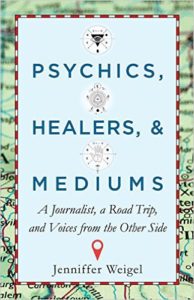 "If you ever wanted to develop your own sixth sense about what's 'real,' this is your guidebook." — Caroline Myss, author of Anatomy of the Spirit
"A must read for the spiritually curious."  — Judith Orloff, MD, author of Second Sight 
"A wise, funny and incisive book written by a first class interviewer." — Paul Selig, author of I Am the Word
This Isn't the Life I Ordered

Setting Sail When Your Relationship Fails

"A must read book that has that rare blend of humor, common sense, and wisdom.  I loved this book."

―Caroline Myss, Author of "Anatomy of the Spirit" and "Defy Gravity"

"I just love Jenniffer's sense of humor, and the fact she truly gets that spirituality doesn't need to be serious! She had me laughing out loud in certain chapters, and laughter is certainly the most fun route to enlightenment!"

-Anita Moorjani, Author of "Dying to Be Me"

Part manual and part memoir, Jenniffer pulls back the curtain of her life and shares how getting a divorce, moving from her dream actually helped her gain a greater awareness and happiness. Her sense of humor reminds us that even though staying on the spiritual path has its fair share of challenges, you are not alone, and you will laugh again—dammit! As a journalist, she remains cynical when gurus such as Wayne Dyer tell her to "embrace the Universe"—but the signs from something bigger keep showing up just in time. Each chapter of "This Isn't the Life I Ordered.." delivers a nugget of wisdom that will leave you inspired and entertained. Jenniffer shows the human side of trying to be spiritual, with several laughs and poignant lessons along the way.
I'm Spiritual, Dammit!

How to Keep Your Feet on the Ground and Your Head in the Stars.

"A wonderful, alive, fun, informative book full of spiritual adventures and awakenings."

―Judith Orloff, MD, author of Second Sight and Emotional Freedom

Is it possible to be grounded and have a rich interior life? Is it possible to get through the day with poise when everything hits the fan? Is it possible to be spiritual without being too "woo-woo"? For Jen Weigel, the answer to all three questions is a resounding YES.
I'm Spiritual, Dammit! (Hampton Roads, September 2010) is an honest, amusing teaching memoir rooted in Weigel's everyday experience as a mother, television personality, and performance artist. In 13 hilarious chapters Weigel captures the humor and pathos of being a parent, a partner and a public personality in today's crazy world.
Stay Tuned

Conversations with Dad from the Other Side

"Every once in a great while, you come across a work that is both heartbreaking and soul-strengthening. This is one. I am proud to know and have known so many of the parties involved. Treat yourself. Read this. Now."
– Greg Gumbel – CBS Sportscaster

"Jenniffer takes you on a fun ride. Enjoy the journey into self-awareness and have a good laugh along the way." – James Van Praagh, author of "Talking to Heaven and Heaven and Earth"

"A very touching, very smart and very funny story about the most important journey one can take – the quest for enlightenment and inner peace." – Richard Roeper Syndicated Columnist and co-host "Ebert and Roeper At The Movies"

"Stay Tuned is a daughter's charming recall of her newscaster father's wise and loving influence while carving her own career in the media." – Caroline Myss, author of "Entering the Castle and Anatomy of the Spirit"