---
Feb 27th, 7:00 PM
Unplug and Connect with Bela Gandhi 
Join Jenniffer Weigel as she interviews Bela Gandhi, founder of The Smart Dating Academy. Bela will share her expert tips for successful dating including finding love on line, how and where to meet great singles and dating for divorcees and widows.
Bela has an uncanny sixth sense about people, and what they need to do for dating success.  The Huffington Post and Steve Harvey call her "The Fairy Godmother of Dating!"  Prior to founding the Smart Dating Academy, Bela worked for 12 years as a top global executive for Akzo Nobel, a large multinational corporation. Bela has two degrees from The University of Illinois at Urbana-Champaign (Finance & German), and has been happily married for 20 years with 2 children.
Bela will provide guidelines and lead an exercise for developing your best on line profile.
Tickets $20 or 2 for $35, $25 at the door.
Get tickets here
The Wilmette Theatre
1122 Central Avenue
Wilmette, Illinois
---
Mar 2nd @ 7:00 pm
Staying Spiritual No Matter What!
Join me as I will be speaking @ the Soder World Wellness Center in Willowbrook, IL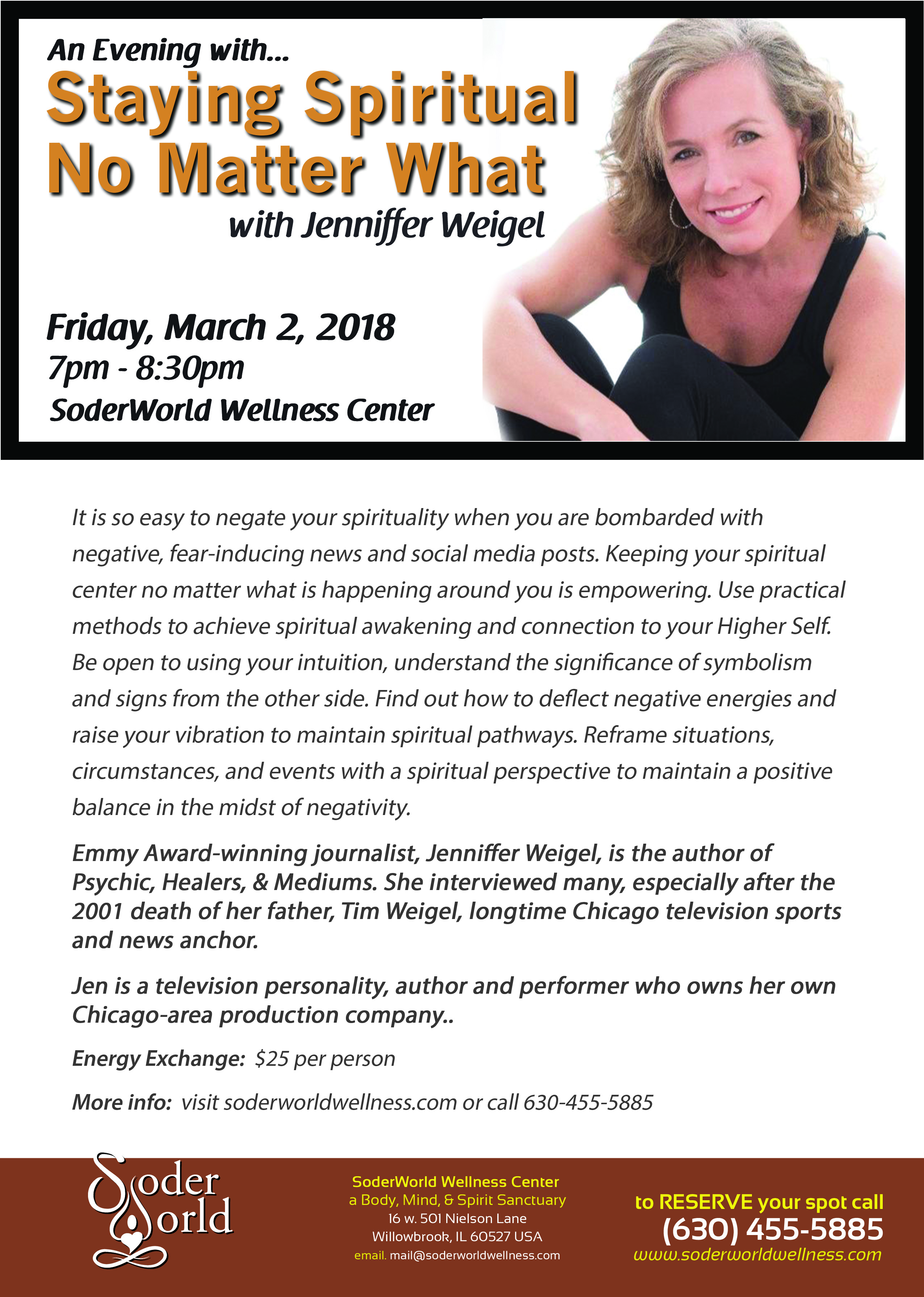 Call 630-455-5885 or Soder World Wellness
---
March 4th @ 2 pm
Weigel productions presents
An Afternoon With Psychic Medium Susan Rowlen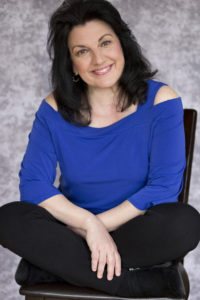 Join Jenniffer Weigel from 2:00 pm to 4:00 pm as she interviews Psychic Medium Susan Rowlen about how & why she "came out" after years of keeping her gifts quiet. Susan will be answering psychic questions for those in attendance as well as helping you understand your own intuitive senses to enable you to see the signs around you.
Susan is one of Chicago's top 10 Psychic Mediums voted by her peers thru 2018 with a deep desire to help those in need of her gifts.
Helping Shine Light where Needed!
THE WELL NORTHSHORE
112 Washington Court, Suite 201, Wilmette, IL 60091
---
Mar 9th @ 7:30 pm
Conversations with Weigel, presents Pat Longo
Jen Weigel interviews internationally known healer Pat Longo.
Pat came into her gifts in her 30s, after watching her mother beat inoperable cancer when she experienced a powerful spiritual healing. Today, Pat teaches classes and workshops on healing, meditation, mediumship development and manifestation, and has been a mentor to many, including famous Long Island Medium Theresa Caputo.
Over time, she began using Past Life Regression Therapy to help remove and heal the pain and traumas that are carried over from the past into the present. I have committed myself to finding and using as many tools that I can to heal others and to enable them to heal themselves. Pat's worldwide mentoring has enabled many more psychics, mediums, teachers, and healers to move forward with their gifts to help and heal others. Pat will do selected healing exercises at the event.
Advance tickets $20 or 2 for $35
At the door $25
Note: that if you are purchasing 2 for $35 only enter the quantity 1 on the purchase page.
Showing on Friday March 9 2018 7:30 PM (120 Minutes)
Wilmette Theatre – Theatre 2
---
If you would like Jen to visit your book club, please send her an email: info@jenweigel.com